After winning Best Opposite Light Gray at Cortland in September of 2009, Gloria took home not only her 1st Grand Champion leg but also made proud her outstanding Mom, Iberia's Galicia. After raising her second litter in 2012 Gloria joined a winning herd in North Carolina. Her son Iberia's Gilberto, sired our top White Flemish Watusi.
Iberia's Plata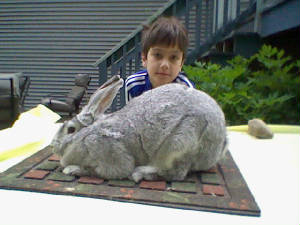 Iberia's Plata was an outstanding doe, and her passing last year was a sad loss for us. Before she left us she earned her last GC leg (BOV) at the Central MA RBN show in Spencer, MA.
Iberia's Gramecy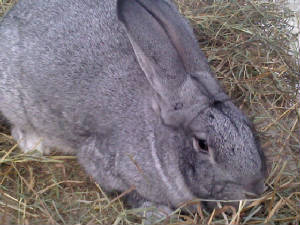 Iberia's Gramecy is a daughter of Iberia's Gisela, one of our finest Light Gray does ever and Best Light Gray at the PaSRBA show in 2010. Her sire, Iberia's San Germán, was BOSV at the same show. Gramecy was BOV at the prestigious Cortland Classic last September 12, 2012.
Iberia's Groenlandia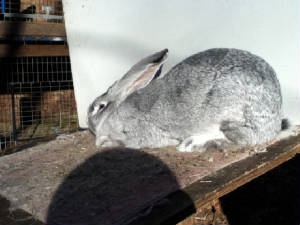 Iberia's Groenlandia surely did well as a breeding doe although the expectations were high -especially when your Mom was Iberia's Graciela, BOV at the renown Cortland Spring show.
Iberia's Graciela had the looks of a winner since she was weaned, and after winning Best Light Gray at her first show in 2010 I knew she was on the right track. But Cortland is the show where Flemish Giants prove what they are made of-and she didn't disappoint anyone. She was Best Light Gray at one of the shows and earned her second Grand Champion leg-in just 2 showings! Sadly she is no longer with us but her daughter Groenlandia will surely carry the legacy.
Grand Champion Iberia's Gaara
October 31, 2007 - July 20, 2011
I am going to miss you...you were one of my favorite Light Grays. Thanks for the many thrilling wins and beautiful babies. May you rest in peace.
Although no longer with us, Iberia's Galicia will always be remembered for her Best of Breed (out of 84 Flemish entries) win at the Central MA Rabbit Breeders Network show on May 17, 2008. Galicia was also 1st Junior doe at the Southern Flemish Show in Taylorsville, NC in April of 2008. She's Gaara's cousin, and the mother of Ghana and Gloria.
Before his unexpected departure in the fall of 2011, San Germán was the buck who had it all: type, bone, color, fur and the pedigree to back it all up. Mom is Grand Champion Iberia's Gaara and Grandma is Grand Champion Iberia's Golosina. He was BOSV at the 2010 PASRBA Open Show…I'll miss you.
Gisela passed away on February 21, 2011 after raising her second litter and a successful yet brief show career. But her legacy is with us and her impressive daughter, Iberia's Gramecy.
Iberia's Golosina
May 8, 2006 - November 4, 2009
Iberia's Golosina (her name means "candy"), is a Grand Champion Light Gray doe. Golosina is a daughter of Iberia's Grigius.
I will miss you too...thanks for being my first Light Gray Champion, for all the wonderful light grays, the numerous wins and many memories.
Iberia's Grigius was one of our top Light Gray bucks. Thanks to this wonderful animal we have been able to have Light Grays with broad heads and massive hindquarters.